This page:
UHH
>
Law
>
The faculty
>
News
>
New student activity "What's Up with Law?": Abreast of world legal events
New student activity "What's Up with Law?": Abreast of world legal events
25 October 2017, by Internetredaktion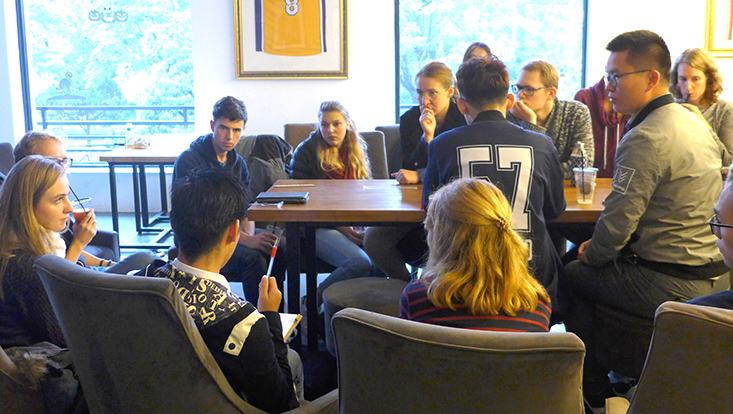 Photo: CESL
Trump's travel ban, Europe's refugee crisis or China's National People's Congress – students discuss the legal aspects of these political events.
Every Wednesday, China-EU School of Law students and scholars discuss the recent hot topics in the world of law at the "What's Up with Law?" Tea Time. Student Jan Ciaptacz is an enthusiastic participant, Assistant Professor Monika Prusinowska developed the idea, and Prof. Susan Wintermuth assisted her. In this interview the three of them speak about why this event resembles a Stammtisch with Chinese flavor, how it quickly turned into a student-driven activity and why it bridges legal minds from Europe and China.
Jan, you chaired today's session. What is it that you gain from these events?
Jan Ciaptacz: "What's Up with Law? Tea Time" has become a real highlight of my weekly schedule. It is a remarkable experience to discuss current issues from the legal world having an international scope of opinions and a broad spectrum of different approaches to every problem. I guess this is also why the initiative immediately drew attention of both European and Chinese students. Everyone attending our meetings must confess that what enables the discussion of this kind is the ability to think outside the box. There are a lot of thinking schemes we are used to in our everyday life. And "What's Up with Law" helps us to teach each other how to abandon them regardless of our nationality, culture, belief or gender. As young citizens of a globalised world we try to achieve a global point of view. As lawyers-to-be we learn how to deal with various cases and problems in a really diverse community. Both are also the main purposes of the China-EU Scholl of Law. I am glad that we have a possibility to contribute to this intercultural exchange of thoughts and ideas, and that very often the gatherings don't end with leaving the tea shop.
Prof. Wintermuth, how exactly does such a gathering look like?
Susan Wintermuth: We meet every Wednesday afternoon in a big room of the tea shop near campus and review recent legal issues in the world. We focus specifically on one or two topics that the students are most interested in. In the past, we talked about Trump's travel ban in the US, the refugee crisis in Europe and China's National People's Congress. Originally, when started in September, the event was scheduled as a biweekly activity. Yet some of the students were very active and carried the conversation forward. So making it a student-run, weekly activity seemed the natural next step.
Assistant Professor Prusinowska, how did you come up with this idea?
Monika Prusinowska: The China-EU School of Law aims at bringing together Chinese and European scholars and students to foster understanding and academics.  We needed a less formal forum for doing this than the classroom or open lectures. Constant dialogue is a sine qua non, an essential action, for fostering understanding and sharing ideas. So, I hit on the idea of a "round table" or "Stammtisch", but decided to call it "Tea Time" to give it a Chinese flavor. We try to discuss the ever-changing world of law, especially in the global context. The casual meetings over coffee or tea have perfectly served both purposes of bringing together Chinese and foreign students and staying abreast of world legal events.
---