Dr. Amal Sethi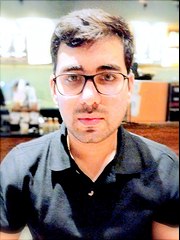 Photo: UHH/Jura
Senior Research Fellow at the Chair for Public Law, European and International Public Law
Address
Universität Hamburg
Rothenbaumchaussee 33
20148 Hamburg
Office
Rechtshaus
Room: A111
Office hours
Contact
Short CV
Dr. Amal Sethi is a Senior Research Fellow at the Faculty of Law, University of Hamburg, where he teaches and researches on comparative constitutional studies. He is currently undertaking a multi-year project funded under the German Excellence Scheme on 'The Design of Constitutional Courts: How It Matters.' Amal's other past and present professional affiliations include the University of Pennsylvania, Harvard University, the University of Liverpool, the National Law School of India University, and the Legal Priorities Project.
Amal is an Associate Editor of the Verfassungsblog, The Director for Technology of the International Society of Public Law (ICON:S), and a member of the ICON:S Committee on Community and Engagement. Amal has also been involved with different governmental and inter-governmental agencies ranging from USAID and the US Department of Commerce to UNESCO, UNDP, UN Women, UNHCHR, and The SDG Fund.
Amal's work is published/forthcoming in The Journal of Federalism, Indian Law Review, American Journal of Comparative Law, Modern Law Review, I·CONnect-Clough Center Global Review of Constitutional Law, Keele Law Review, Asia Pacific Law Review, Nuovi Autoritarismi e Democrazie, Routledge Handbook on the Law of Greater China, National Law School of India Review, The University of Pennsylvania Journal of International Law, The University of Missouri Kansas City Law Review, among others.
Amal obtained his Doctorate and Masters in Law from the University of Pennsylvania Law School, Philadelphia. During his time at The University of Pennsylvania, Amal was appointed as a Salzburg Cutler Fellow, a Legal Writing Fellow, and a Global Women Leadership Fellow. Additionally, he received his Bachelor of Laws from the Government Law College, Mumbai, where he graduated as a recipient of the Best Student Award and the Nivedita Nathany Award for Academic Excellence and Leadership.