Cyber Law Clinic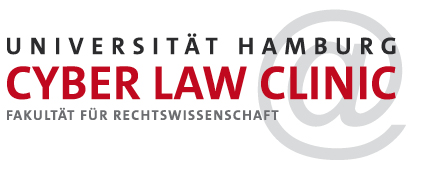 The Cyber Law Clinic is an institution of the law faculty of the University of Hamburg, funded by the Medienstiftung Hamburg/Schlewsig-Holstein.
Your commitment for Law and Justice!
The Cyber Law Clinic offers you the possibility to both be an active part of the law system and campaign for justice:
As a Legal Advisor of the Cyber Law Clinic you prepare yourself for your future work life as a lawyer by handling real cases, working with and being guided by specialized lawyers from Hamburg.
You fight for justice by helping consulters who cannot afford to pay for legal advice. In practice, this means that you help private individuals or charity organizations with legal questions regarding imprints, data security, warning letters due to filesharing or copyright infringements.
The Cyber Law Clinic plays an important role in your juridical education. Other than in internships, moot courts or the Referendariat our focus lies on the cooperation with the non-juridical public, i.e. we emphasize the direct communciation with real clients. Under the supervision of a specialized lawyer you will be taught to understand, interpret and answer legal questions. 
If you participate successfully you can obtain a certificate for your CV or have your commitment acknowledged as a Schlüsselqualifikationsschein.
We expect an above the ordinary commitment, the ability of working self dependent in a team and absolute reliability from you.
Please note: The application for participating in the Cyber Law Clinic does not work via STiNE: If you are in your Hauptstudium and have an increased interest in internet law, we are happy to receive an email from you: cyberlawclinic(at)jura.uni-hamburg.de
Your Cyber Law Clinic Team