Albrecht Mendelssohn Bartholdy
Lawyer—peace researcher—artist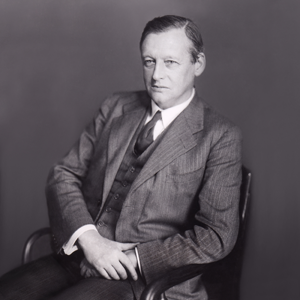 The Graduate School of Law fosters interdisciplinary academic excellence as exemplified by the life and works of Albrecht Mendelssohn Bartholdy, the scholar for whom it is named.
As of 1920,  Bartholdy was professor for private law and comparative and international private law in Hamburg. As a member of the Politics Law Consortium, he had been sent to Versailles in 1919 by the German Reich as a delegate to the Paris Peace Conference. Mendelssohn Bartholdy founded the Institute of Foreign Politics in 1923. The new discipline War and Conflict Studies quickly gained recognition and later became an integral feature of peace studies.
Mendelssohn Bartholdy was an expert on Anglo-American law and nurtured connections abroad. He served as a judge at the International Arbitration Tribunal in The Hague in 1925, and in 1931, he served as delegate to the League of Nations. His enforced emigration in 1933 put an abrupt end to his stellar career. The following year, Mendelssohn Bartholdy found asylum  in England, where he became research fellow at Balliol College, Oxford. He died in Oxford in 1936 after a severe illness. Mendelssohn Bartholdy's scholarly work illuminates the strong connection between law and peace. It is hardly suprising that he chose judicial office as the subject of his first works.
Mendelssohn Bartholdy was not merely an academic but an acclaimed concert pianist, composer, and poet. As a teacher of civil, public, and international law, a lawyer,  an academic, a politician, and an artist, Mendelssohn Bartholdy is renowned for crossing boundaries and disciplines. Both privately and professionally, his name stands for freedom, cosmopolitanism,  international jurisprudence and interdisciplinary interests. The graduate program is committed to these ideas.