An institution of higher education for Sino-European legal dialogue
The China-EU School of Law is the only Chinese-foreign law school in China. It was founded in 2008. Li Keqiang, the then Vice Premier of China and current Premier of China, and José Manuel Barroso, the then President of the European Commission, inaugurated the school to engage in a Chinese-European legal dialogue and to support the Chinese government in its effort to develop a society based on the rule of law.
"We attach great strategic importance to the China-EU School of Law for Chinese-European relations. For the modernisation of China we need more legal talents. The China-EU School of Law is an important platform. Here, full of mutual respect, we become acquainted with the other legal system." –Li Keqiang, China's Premier, the then Vice Premier of China, at the inauguration of CESL in 2008
Our programmes
Education: The China-EU School of Law offers two master's programmes and an exchange semester. Those programmes produce a new generation of legal scholars with a well-rounded education in European, international and Chinese law.
Research: We support scholars who are interested in a comparative analysis of Chinese-European legal systems and China's legal transformation. We offer scholarships, funding, conferences, publication possibilities and a forum for exchange. There are also scholarships offered specifically for PhD students.
Professional Training: Workshops and lectures expand the legal knowledge of Chinese prosecutors, judges, lawyers and civil servants.
The China-EU School of Law is a cooperation project made up of 13 European and three Chinese universities and educational institutions. The Consortium Office is located at the University of Hamburg. The 16 partners provide professors and lecturers for the academic programmes as well as provide access to research networks and financial support. Further, the China-EU School of Law builds upon the professional expertise of 28 associates including leading research institutes and international law firms.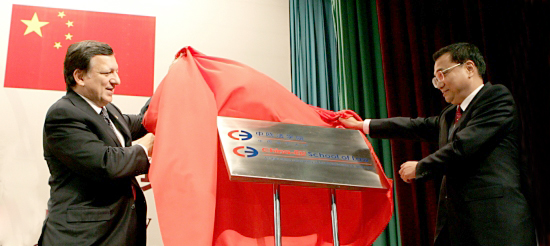 "Of course there are hundreds of law schools in China. But this one has a special mission. It is committed to the pursuit of excellence through the quality of its students and its professors."  –José Manuel Barroso, European Commission President 2004 - 2014 

The China-EU School of Law is integrated into the China University of Political Science and Law (CUPL), one of China's highest-ranking universities in the field of law. The Chinese Ministry of Education has licensed this law school as a cooperation project administered by CUPL and the University of Hamburg. With a total volume of 30.5 million euros, 17.5 million euros of which is funding by the European Union, the China-EU School of Law is regarded as one of the biggest EU educational projects in China.