Vis Moot team practices with AnJie lawyers
8 March 2018, by Internetredaktion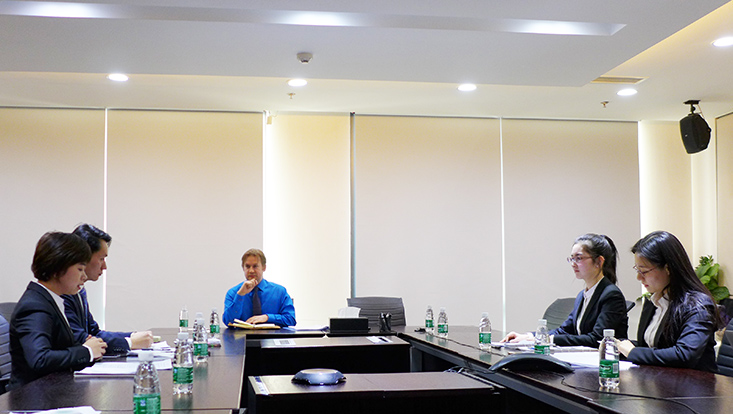 Photo: Monika Prusinowska
Students practising with lawyer Darren Mayberry in the AnJie Beijing office.
How do you successfully negotiate? Six master's students from the China-EU School of Law now got advice from AnJie law firm partners Arthur Dong and lawyer Darren Mayberry on this question. With the two-hour training, students prepared for competing in the Willem C. Vis (East) International Commercial Arbitration Moot student tournament in Hong Kong from 11 to 18 March. "The most important rule for a good oral presentation in arbitration is a clear and logical delivery of your arguments – it is that easy and that difficult," Darren Mayberry explained. Every student gave a short pledge and received personal feedback afterwards. "Training with real lawyers is one of the most precious experiences our students can get," says Assistant Professor Monika Prusinowska, coach of the Vis Team. "I find it still difficult to concentrate on my arguments and keep eye contact with the tribunal at the same time," student Zheng Yan openly confessed afterwards. "But the feedback that I should keep eye contact was very helpful, I will now try to work on that."
AnJie is one of the leading Chinese law firms in international arbitration. The Willem C. Vis East International Commercial Arbitration Moot is an international moot court competition for law students. It runs in parallel with the Willem C Vis Moot in Vienna, using the same cases. In 2017, 125 teams from all over the world competed in the tournament.