"We spoke very openly about the Chinese legal system"
21 February 2018, by Internetredaktion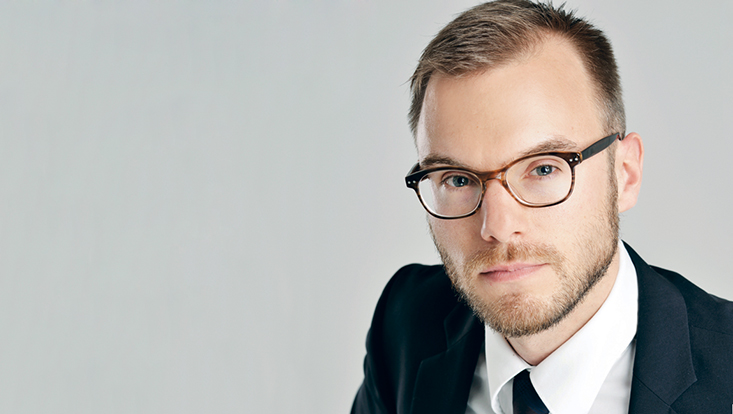 Photo: CMS
"The most exciting cases are the complex ones combining different international legal systems," says Johannes Bescher.
A Maître en Droit from Paris, a State Examination in Law from Berlin and the LL.M. in "European and International law" from Beijing – Johannes Bescher has already explored European Law from all kinds of perspectives. As a Senior Associate at the law firm CMS Hasche Sigle he provides advice to clients from all over Europe.
What is your job about?
I mainly cover real estate transactions and construction projects. With the latter I provide legal support for arbitration in large-scale, international infrastructure projects. When a general contractor, for instance, builds a power plant, the agreement usually contains an arbitration clause. If there is a disagreement, the contractual parties are bound to a resolution out of court, they agree on further proceedings through arbitration. We provide the legal services. The most exciting cases are the complex and diverse ones combining different international legal systems – such as arbitration based on Common Law in France for a client from Spain who builds a power plant in Germany for a customer from Sweden.
Arbitration proceeds somewhat different from the real estate transaction business, which is my second key area. In transactions you often have to respect very tight deadlines. As a law firm, part of our job is proper coordination between the parties involved so that the transaction can quickly proceed. That really is a completely different and much more dynamic process than arbitration for a large-scale construction project, which is more a matter of delving deeply into a case and presenting events convincingly. In this respect, these areas complement each other very well.
Did your studies at the China-EU School of Law prepare you for your current tasks?
I already obtained advice on my master's thesis at the China-EU School of Law from an acquaintance of mine at the CMS Beijing office. That helped me to not work on my topic only from behind my desk, but to include the perspective of a lawyer practising in China. This was my first professional contact with CMS. After graduation I worked for four months at CMS Shanghai, where I liked it so much that I wanted to continue working for the same law firm in Germany.
From the point of view of a lawyer: Would you study at the China-EU School of Law again?
Academically, I appreciated in particular the courses in "Chinese Law Taught in English" which complement the master's programme. These were rather panels to exchange views than actual courses. Most of the professors, all Chinese, had a European or American background, for example because they had studied and practised law in the US. We had very lively and open discussions about the peculiarities of the Chinese society and the law system. Very often, I was astonished at the subjects of the discussion.
In the 2013-14 LL.M. programme, there were only three Europeans and the other approximately 80 fellow students were Chinese – this requested that we did not live in a bubble of so-called expats, of foreigners living in China, but to actually immerse into Chinese student life. It worked out great. Additionally, I had the advantage and the good fortune to share my flat with Chinese students. Thus, I spent everyday life with Chinese students. Today I mainly use WeChat, the Chinese WhatsApp, to stay in contact with these friends; just last weekend a former fellow student from Beijing visited me in Berlin and I showed him around.