Kelly Amal Dhru, LL.M.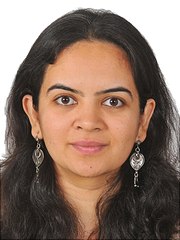 Photo: UHH/Jura
Research Associate, Prof. Dr. Marion Albers
Address
Universität Hamburg
Faculty of Law
Rothenbaumchaussee 33
20148 Hamburg
Office
Room: A323
Office hours
Contact
Curriculum Vitae
Kelly Amal Dhru is a law graduate from India, and has completed the degrees of Bachelor of Civil Law (Distinction) and Master of Philosophy of Law from University College, University of Oxford. She has been a Fulbright-Nehru Master's Fellow in Public Health Law and Bioethics, as a part of which she completed the LLM from Harvard Law School in 2016. She is currently doing her PhD at the Albrecht-Mendelssohn-Bartholdy Graduate School of Law at Universität Hamburg on the topic of 'Emerging Neurotechnologies, Personhood, and Legal and Human Rights.'
Main Research Fields
Bioethics
Public Health Law
Legal Philosophy
Legal Regulation
Lectures
Here you can find a list of lectures by Kelly Amal Dhru.