Helene Heuser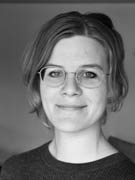 Research Fellow, Prof. Dr. Nora Markard
Address
Universität Hamburg
Faculty of Law
Rothenbaumchaussee 33
20148 Hamburg
Office
Rechtshaus
Room: A334
Contact
Helene Heuser: Research "Cities of Refuge"
Helene Heuser's (MA phil., Ass. jur.) research project on "Cities of Refuge" examines since 2013 a glocal concept of refugee protection.
Please click here for the projects website.
Curriculum Vitae
Work experience
Academic education
since March 2016 PhD Cities of Refuge (Prof. Markard, Prof. Fischer-Lescano).
2015: Second State Exam, Berlin.
2010: First State Exam, Berlin.
2008–2010: Law school, Humboldt University Berlin.
2008: Master 2 Philosophie et Société.
2006–2008: Philosophy, Sorbonne University Paris.
2005–2006: European and International Law, Humboldt University Berlin.
2003–2004: French-German legal studies, University Potsdam / Nanterre University Paris.
Publications
Helene Heuser: Zwei Jahre EU-Umsiedlungsprogramm: Erfolgreiches Pilotprojekt oder gescheiterter Notfallmechanismus?, NvWZ 6/2018, i.E.

Helene Heuser: Familienzusammenführung in Zeiten der "Flüchtlingskrise" - Schwerpunktwoche Herbsttagung Netzwerk Migrationsrecht 2017, JuWiss, 14.12.2017

Helene Heuser: The suspension of the  right to family reunification to subsidiary protected persons - A breach of  the fundamental right to family?, Asylmagazin 4/2017; taken up by the Constitutional Court Germany.

Helene Heuser: Sanctuary Cities in Germany - Widerstand gegen die Abschiebepolitik der Bundesregierung, Flüchtlingsforschungsblog, Verfassungsblog, 13.03.2017.

Helene Heuser: Europe suspends the human right to family life, GrundundMenschnrechteBlog, 23.02.2017.

Helene Heuser: Cities of Refuge, Flüchtlingsforschungsblog, 24.01.2017.

Helene Heuser: Verfassungsmäßigkeit der Aussetzung des Familiennachzug zu subsidiär Schutzberechtigte bei Kindern, Rechtsgutachten für BUMF e.V., Oktober 2016.

Nora Markard/Helene Heuser: "Hotspots" στα εξωτερικά σύνορα της ΕΕ: στρατόπεδα κράτησης που προσβάλλουν τα ανθρώπινα δικαιώματα και παραβιάζουν το ευρωπαϊκό δίκαιο, in: Εφαρμογές Δημοσίου Δικαίου [Anwendungen des öffentlichen Rechts] 2016, S. 19-26.

Nora Markard/Helene Heuser: Hotspots at European borders and the conformity to European human rights standards, 2016.

Helene Heuser: Le droit des étrangers - Une perspective philosophique, Recueil Alexandries, Paris 2008.

Nora Markard/Helene Heuser: "Hotspots" an den EU-Außengrenzen: Menschen- und europarechtswidrige Internierungslager, ZAR 6/2016.

Helene Heuser: "Blitzverfahren" – German Asylum Procedures for Roma in Germany, Roma Rights Journal 1/2014.
Talks
Urban Sanctuary at the crossroads – borderwork and urban citizenship in a transatlantic perspective, Law and Society Association, Toronto, 8 June 2018.

Sicherer Hafen Hamburg? Sanctuary Cities zwischen Utopie und Umsetzung, Metropolenkritik, Rosa Luxemburg Stiftung Hamburg, 07.05.2018

Municipal Migration Policy - Inbetween Legal Scopes for Action and Civil Disobedience, Universität Haburg, 27.04.2018.

Familiennachzug in Zeiten der Flüchtlingskrise, Herbsttagung 2018, Netwerk Migrationsrecht, 11.11.2017.

City for everyone ?! Research on ways to an urban society without exclusion, Heinrich-Böll Stiftung, Bildungswerk Berlin.

Podium: Alternatives to European Refugee Policy, with Prof. Gesine Schwan, Andreas Lipsch (Pro Asyl), Johanna Bussemer (Böll), Refugee Law Clinic Hamburg.

Urban Citizenship, Cities – Spaces of another Globalization?, Medico International, Frankfurt (Video).

Backlash of the National, Options for refugee reception into cities, Kritnet Conference, University of Osnabrück.

Of good and bad practices of asylum law implementation in Germany, University of Genoa.

Podium: City for all - How to?, GEW Curiohaus, Hamburg.

Sanctuary Cities and Derrida, Resistance in Refugee regimes, Konferenz der Flüchtlingsforschung, University of Osnabrück.

Theories of Migration Law, Premises of Migration Law, Humboldt-Universität and Freie Universität Berlin.

Deconstruction of Cosmopolitanism and the Cultivation of Unconditional Hospitality, Migrants and Cosmopolitism, Refugees, Migrants and Cosmopolitics, Critical Legal Thinking (CLT), Bucharest.

Refuge Cities, Law(s) of Refugees I, 2016 ICON-S Konferenz: Borders, Otherness, and Public Law, Humboldt-Universität of Berlin.

"Blitzverfahren" for Roma Asylum seekers in Germany, European Roma Rights Centre, Belgrad, 28.11.2013.

On the situation of Roma asylum-seekers from Serbia, Gekko e.V., Berlin, 5.11.2013.

Critical Philosophy of Law, Law Clinic for Constitutional and Human Rights, Humboldt University of Berlin.
Award, Scholarship, Membership
Award:
Excellent teaching, Ministry of Education Hamburg
Membership:
Netzwerk Migrationsrecht
Netzwerk Flüchtlingsforschung
Refugee Law Clinics Deutschland e.V.
Amnesty International
Kontakt- u. Beratungsstelle für Flüchtlinge u. MigrantInnen e.V.
Scholarship:
Research stay Toronto, Heinrich-Böll-Stiftung
PhD, Heinrich-Böll-Stiftung
Internship, Leonardo Da Vinci
Studies in Paris, Erasmus
Research Project, DFJW
Press
Article (Vanessa Vu): Ein besonderer Schutz, Zeit online, 18.01.2018
Interview (Carolin Fromm): Familiennachzug - Ahmed wartet auf Mama und Papa, NDR, 01.02.2018.
Article (Michel Jungwirth, Carolin Wiedemann): "Recht auf Stadt für Refugees", AK - Analyse & Kritik, Nr. 631, 17.10.2017
Article (Viktor Funk): "Stiller Schutz - Private Initiativen und Kommunen wollen mehr Flüchtlinge aufnehmen", Frankfurter Rundschau, 29.08.2017 .
Interview: Solidarische Städte, Sanctuary Cities und Cities of Refuge, Anne Frisius, Kiezfilme.
Press Conference: "Wir zeigen Haltung für Demokratie" zum G20 Gipefel in Hamburg, Mopo, 04.07.2017.
Article (Tom Strohschneider): "EU geht auch anders: Städte der Zuflucht", Neues Deutschland, 07.06.2017.
Interview: "Zufluchtsstädte" – ein Modell für Deutschland?, Mediendienst Integration, 23.05.2017.
Interview: »sanctuary cities sind in Deutschland nicht utopisch« Zeitschrift LuXemburg, 01/2017.
Interview: "Flüchtlinge bekommen keinen Zugang zum Recht", Zeit online, 14.03.2017.
Interview: "Abschiebepraxis von Zufluchtsuchenden aus Afghanistan", Detektor FM, 08.12.2016.
Interview: "Kommentar zur Debatte um die Abschiebung von straffällig gewordenen Flüchtlingen", NDR, 11.01.2016.
---