Prof. Dr. iur. Stefan Oeter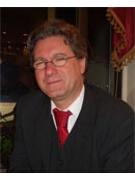 Public Law, International Law, and Foreign Public Law
Address
Universität Hamburg
Faculty of Law
Rothenbaumchaussee 33
20148 Hamburg
Office
Rechtshaus
Room: A415
Office hours
Contact
Fax: +49 40 42838-6262
Lehrstuhlwebsite
Die Webseite des Lehrstuhls finden Sie hier.
Lebenslauf
geboren am 4. Juli 1958 in Karlsruhe als Sohn des Freien Architekten Dipl.-Ing. Albrecht Oeter und der Kostümbildnerin Erika Oeter, geb. von Jan
1964 - 1977 Besuch der Grundschule und des Gymnasiums in Karlsruhe
Sommer 1977 Abitur am Max-Planck-Gymnasium Karlsruhe
1977 - 1978 Grundwehrdienst bei der Pioniertruppe in Speyer und Bad Mergentheim
1979 - 1983 Studium der Rechtswissenschaften an der Universität Heidelberg (mit Auslandsaufenthalt in Montpellier)
Dez. 1983 Erstes Staatsexamen ('gut', 11,5 P.)
Jan. 1987 Zweites Staatsexamen ('befriedigend', 8,6 P.)
1987- 1997 Tätigkeit als wissenschaftlicher Referent am Max-Planck-Institut für ausländ. öffentl. Recht und Völkerrecht
Sommer 1988 Visiting Scholar am 'Center of Studies' der Haager Akademie mit einem Projekt zum Themenbereich "The Legal Aspects of International Terrorism"
Sommer 1990 Promotion zum Dr.iur.utr. an der Universität Heidelberg mit der Arbeit "Neutralität und Waffenhandel"
Jan.-April 1991 Gastdozent an der Universität Alcalá de Henares (Madrid); Lehrveranstaltungen über Europäisches Gemeinschaftsrecht und deutsches Verfassungsrecht
WS 1996/97 Habilitation an der Juristischen Fakultät der Universität Heidelberg in den Fächern "Deutsches und ausländisches öf-fentliches Recht, Völkerrecht sowie Europarecht" mit einer von Prof. Dr. Jochen A. Frowein betreuten Arbeit über "Integration und Subsidiarität im deutschen Bundesstaats-recht. Untersuchungen zur Bundesstaatstheorie unter dem Grundgesetz"
SS 1997 Vertretung einer C3-Professur für Öffentliches Recht an der Ruprecht-Karls-Universität Heidelberg
Okt.1997 - März 1999 Vertretung einer C4-Professur für Öffentliches Recht an der Europa-Universität Viadrina Frankfurt/Oder
Sommer 1999 nach Ablehnung von Rufen an die Universität Bremen und die Europa-Universität Viadrina Annahme eines Rufes auf den Lehrstuhl für Öffentl. Recht und Völkerrecht an der Universi-tät Hamburg
seit Okt. 1999 Universitätsprofessor (C 4) für Öffentliches Recht, Europarecht und Völkerrecht und geschäftsführender Direktor des Instituts für internationale Angelegenheiten der Universität Hamburg
Sommer 2005 Ablehnung eines Rufes an die Universität Frankfurt/M.
Nov. 2005 - März 2006 Visiting Fellow am Robert Schuman Centre for Advanced Studies des Europ. Hochschulinstituts in Florenz
2005 - 2010 Prodekan für Studium und Lehre
Sommer 2010 Ablehnung eines Rufes an die Universität Bonn
Mitgliedschaft in Gremien
Mitglied im Fachausschuss Humanitäres Völkerrecht des Deutschen Roten Kreuzes
Chairman (2006-2014) und deutsches Mitglied (seit 1999) im Unabhängigen Expertenkomitee des Europarates für die Europäische Charta der Regional- und Minderheitensprachen
Mitglied im wissenschaftlichen Beirat des Bundesministeriums für Verkehr, Bau- und Wohnungswesen (seit Frühjahr 2002).
Vorsitzender der 'Historical Commission' der International Society for Military Law and the Laws of War (seit Sommer 2003).
Mitglied des Permanent Court of International Arbitration, Den Haag (seit 2008)
ordentliches Mitglied der Akademie der Wissenschaften in Hamburg
Forschung
Rechtlicher Umgang mit Problemen kultureller Diversität, insbesondere in der rechtlichen Verarbeitung der Situation kultureller und sprachlicher Minderheiten, aber auch im Umgang mit Migranten und Ausländern
Völkerrechtliches Konfliktsrecht, insbesondere Fragen der Humanitären Intervention und des Schutzes der Zivilbevölkerung vor militärischer Gewaltanwendung; seit längerer Zeit auch Fragen der Bekämpfung des Terrorismus
Aktuelle Entwicklungen des Wirtschaftsvölkerrechts, insbes. des WTO-/GATT-Rechts
Konstruktionsprobleme föderaler Ordnungen, ausgehend von den Problemen des deutschen Bundesstaatsrechts, weitergeführt in die Konstruktion multinationaler Bundesstaaten, bis hin zu den Konstruktionsfragen der Europäischen Union, die sich mit guten Gründen als Sonderform einer föderalen Konstruktion begreifen
Theorie des Völkerrechts und der internationalen Beziehungen, Global Constitutionalism
Institut für internationale Angelegenheiten
Zur Seite des Instituts für internationale Angelegenheiten gelangen Sie hier.