Venue & Travel & Accommodation
Getting to Barcelona centre
Arrival from the airport: The Barcelona airport El Prat is around 25 km from the campus.
a) By bus (Aerobús)
Frequency: every 15 minutes.
Price: single ticket €5,90 / return ticket €10,20
Duration of the route: 20-30 minutes, depending on traffic.
Stops: Urgell, Plaza Universitat, Plaza Catalunya
At both terminals
www.aerobusbcn.com
b) By taxi
UAB can arrange a taxi service from the airport. Otherwise, you will be able to pick a taxi from the airport.
Price: around €35
At both terminals
c) R2 train (Rodalies de Catalunya Renfe trains)
Airport train station is located 200 mts outside from terminal T2 building.
Frequency: Every 30 minutes.
Price: you could buy a T-10 (one zone) and use it for this trip – making the price around 1€ (no extra charge for the Airport)
From the airport to Sants it takes 19 minutes, 26 minutes to get to Passeig de Gràcia.
d) Metro
The line L9 Sud Metro connects Barcelona downtown with the airport. The L9 Sud stops at 15 stations until it gets to the airport terminals. The line begins at Zona Universitaria.

At Terminal 2 the entrance is near the train station. At Terminal 1 the entrance is at level 0, near the buses.
The estimated travel time is 32 minutes to/from the Zona Universitaria station.
Frequency: every 7 minutes.
Ticket valid for a single trip to the airport from any network station or subway to get from the airport to any metro station Barcelona.
Airport fare: € 4.60€.
Getting to the UB
The Barcelona Summer school will take place at Faculty of Law, Universitat de Barcelona (UB), Avenida Diagonal, 684.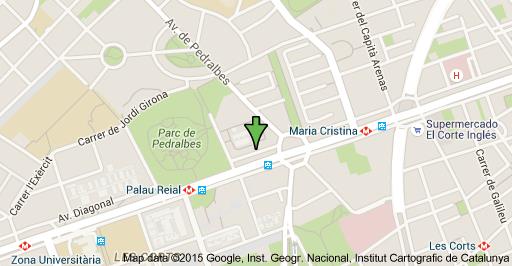 Connection with public transport is Line 3 (Green), station "Palau Reial" or buses 7, 33 and 34.
The Summer Course will take place at room: D 403. Building D Pl4
Signposting will be provided during the Course.
Accommodation
Near Plaza Cataluña you will find a lot of Hotels and Apartments. We do recommend you to look through booking.com, as it might be cheaper than booking directly through the hotel website. Alternatively, you could rent an apartment (i.e. AirBnb or Booking).
a) Residencia Universitaria Barcelona Diagonal
C/ Capità Arenas, 52-56 08034 Barcelona
Tel: 937 012 000
barcelonadiagonal"AT"resa.es
http://www.resainn.com/alojamiento/barcelona/residencia-barcelona-diagonal
This Residence is the near the UB- Faculty of Law – 10 minutes walking distance. However, in September it could be full, as they mainly host students on a long-term basis.
b) Residència d'Investigadors (RESA Hospital)
C/ Hospital, 64. 08001 Barcelona
Tel: 934 438 610.
investigadors@resa.eswww.resainn.com/alojamiento/barcelona/residencia-investigadors/
This Hotel – residence for researchers is good value for money, and it is 5 minutes walking to the metro station "Liceu" (line 3 to Zona Universitaria), which is 20 minutes metro distance to the University.
Other Residences with studios are: https://www.resa.es/es/ciudad/barcelona/
c) Arenas Atiram
C/ Capitán Arenas 20, 08034 Barcelona
Tel: 932800303
hotelarenas@atiramhotels.comhttps://www.atiramhotels.com/hoteles/barcelona/hotel-arenas-atiram-cerca-camp-nou/
The Hotel is, again, near the Faculty and has relatively cheap rooms (€60/night)
d) Hotel Acta City47 ****
Nicaragua, 47 - 08029
Barcelona
Tel: +34 93 363 74 74
recepcion.city47@actahotels.com
Another option is to stay near Sants Estació, which is not far from the Faculty (10 minutes in metro) and quite convenient to travel from-to the airport. Rooms are from €70 /night.
e) Boutique Hotel H10 Catalunya Plaza ***
Plaça Catalunya, 7, Eixample, 08002 Barcelona
https://www.h10hotels.com/es/hoteles-barcelona/h10-catalunya-plaza
f) Hotel Medium Monegal **
Pelai, 62, Ciutat Vella, 08001 Barcelona
https://www.mediumhoteles.com/ca/espana/barcelona/ramblas/hotel-medium-monegal
Wi-Fi and other facilities
There is Wi-Fi network for visitors available on campus. Password to Wi-Fi network will be provided soon.