Links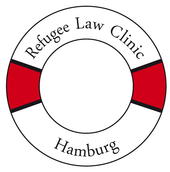 We regularly add links to this page—we welcome your suggestions!
Other refugee law clinics in Germany (selection)
Law Clinic Bremen—Migration & Law
Praxisprojekt Migrationsrecht Halle (Halle Migration Law Project)
There are a number of refugee law clinics in Germany. They have joined together to form the Refugee Law Clinic Network.
Information about refugee law clinics (in German only)
Laura Hilb and Lisa vom Felde, Refugee Law Clinics in Deutschland – ein studentisches Modell für die Veränderung der juristischen Ausbildung? (Refugee law clinics in Germany—a student model for changing legal education?) In: Kritische Justiz, 2/2016, pp. 220–232.
Interview series in the Junge Wissenschaft blog, January 2016: "Refugee Law Clinics: soziales Engagement als praktische Kritik an der universitären Juristenausbildung?" (Refugee law clinics: social commitment as practical criticism of the legal education at universities?)
Sueddeutsche Zeitung, 16 December 2015: Wenn Jurastudenten Flüchtlinge beraten (When law students advise refugees)
Der Spiegel, 15 November 2013: Studentische Rechtsberatung für Asylbewerber: Die Fluchthelfer (Student legal advisors for asylum seekers: the escape agents)
Deutsche Welle, 7 April 2013: Law Clinics: Spielwiese für Jura-Studenten (Law clinics: a playground for law students)
Frankfurter Allgemeine Zeitung, 17 September 2014: Law Clinics: Jura-Studenten machen sich nützlich (Law clinics: law students make themselves useful)
Resources on refugee law
Information on the EU asylum and migration laws—compiled by Pro Asyl (in German only)
Handbook on European Law Relating to Asylum, Borders and Immigration—prepared by the European Union Agency for Fundamental Rights (FRA), 2014
European Database of Asylum Law (EDAL)—case law database with rulings from member states and the European courts, operated by the European Council on Refugees and Exiles (ECRE)
Asylum Information Database (AIDA)—European database with information on asylum, operated by the European Council on Refugees and Exiles (ECRE)
European Country of Origin Information Network (ecoi.net)—European database with information on countries of origin, operated by NGOs, government agencies, and the UNHCR
migrationsrecht.net—current news, commentaries, and materials
asyl.net—current news, case law summaries sorted by theme,resources on right of residence and refugee law, asylum magazine (in German only)
Advising materials—compiled by Diakonisches Werk (in German only)
Free access to Oxford University Press resources on refugee law
UNHCR Handbook for Determining Refugee Status and Guidelines on International Protection no.1–8
Conclusions on International Protection reached by the UNHCR Executive Committee
Michigan Guidelines—expert guidelines developed at the University of Michigan
refworld.org—UNCHR database with rulings, UN documents, and country-specific materials