How does the RLC Hamburg work?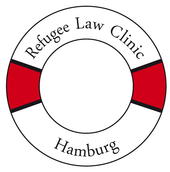 The Refugee Law Clinic Hamburg offers high-quality legal advice from law students to refugees, free of charge. We focus on ensuring the quality of training and closely supervising advisory activities.
On this page, we explain the RLC Hamburg's concept and approach. See here for details of how to get involved.
Training
The RLC Hamburg training takes 1 year to complete and includes:
an introductory course in the winter semester on the basics of refugee law and preliminary practical skills for advising refugees—you can also obtain a key qualifications certificate in this course;
an internship (ideally during the semester holidays) to gain practical experience at one of the cooperating law firms or other specialized establishments—this internship can be recognized as a required internship as per Section 5 of the Hamburg act on legal education (Hamburgisches Juristenausbildungsgesetz, HmbJAG); and
an advanced practical course in the summer semester to fortify subject knowledge, discuss practical experience, and develop standards for the advisory work. (Students who participate in the clinic training may also arrange to write a term paper.)
There are also several workshops (e.g., on how to cope with trauma) as well as anti-discrimination and diversity training. During the advanced phase in the summer semester, students accompany experienced advisors (work shadowing). As the semester progresses, they gradually become actively involved in the advisory work.
Legal advice
The RLC Hamburg advises refugees at cooperating establishments in Altona, Harburg, Wandsbek, and Wilhelmsburg as well as (once a month) in Horst, Mecklenburg-West Pomerania. Local teams coordinate the roster for the weekly office hours with the Clinic team. Legal advice offered to persons seeking asylum includes information about the official asylum procedure, about questions of family reunification, and on the Dublin Regulation in Germany. Our terms and conditions apply for all consultations. See here for details of all locations, office hours, and addresses.
Consultations are mostly held in English or German. For all other languages, persons seeking advice must provide their own interpreter. We often have interpreters on location for Arabic, Farsi/Dari, and French, and sometimes also for Turkish, Russian, or Spanish. During the consultation, we can arrange for an interpreter to be present at the next meeting (unfortunately, this cannot be arranged in advance via email). In the Winter Semester 2016/17, we began building up a pool of volunteer interpreters.
To ensure that the advice is of the highest quality, our legal advisors meet every 2 weeks with our cooperating lawyers Heiko Habbe and Björn Stehn to discuss their cases. They also attend workshops, presentations, and training sessions run by the RLC Hamburg. Several times a year we offer our advisors the opportunity to participate in a peer coaching session to discuss the stress and conflicts they may have experienced during consultations.
"Free shot" regulation
On 10 May 2017, the Hamburg Parliament agreed to a reform of the HmbJAG, which included a new regulation for what is known as the "free-shot" regulation concerning participation in a law clinic. This amendment has now come into effect. This is the first regulation of its kind in Germany. Initiated by the RLC Hamburg, it was developed in cooperation with the Hamburg Ministry of Justice, the judicial examination office (Justizprüfungsamt, JPA), and Bucerius Law School (details here).
Students are permitted one "free shot" when taking the Erstes Staatsexamen (first state examination) if they apply for admission to the examination no later than 1 month before the end of their ninth semester. When calculating the number of semesters, part of the study period can be disregarded ("free semester") pursuant to Section 26 subsection 2 HmbJAG.
According to the new Section 26 subsection 2 no. 5 HmbJAG, participation in a law clinic in Hamburg can be recognized as a "free semester." This requires the exam candidate to have participated in the clinic program for at least 1 year and spent a minimum of 1 semester actively providing free legal advice. The candidate's law clinic activities must moreover constitute "a significant portion of the candidate's study time during this period." The University must provide written confirmation of the student's participation for the JPA to recognize the clinic semester. For a clinic semester to be recognized, the JPA must have deemed the respective law clinic as eligible for recognition with regard to its content and scope. The RLC Hamburg was recognized in July 2017.
Students who wish to benefit from the free-shot regulation cannot, however, have their work at the clinic, or any part of it, recognized for admission to exams or as an exam component. There is, however, one exception pertaining to the key qualifications certificate pursuant to Section 13 subsection 5 no. 1 HmbJAG: Students who obtain this certificate in the introductory course can submit this for admission to the state examination if, at the same time, they are participating in the clinic in line with the free-shot regulation. The clinic internship may NOT be counted twice—towards both the free shot policy and as an exam qualification.
See the explanatory memorandum (in German only) for details.
Conditions of the act on legal services (Rechtsdienstleistungsgesetz, RDG)
Pursuant to Section 6 subsection 2 RDG, the provision of free legal advice by students must be supervised by someone qualified as a judge, i.e., who has completed the Zweites Staatsexamen (second state examination). Besides the clinic training, this supervision also includes further training and, where necessary, involvement in individual cases.
All courses at the RLC Hamburg are led by Assessor juris Helene Heuser, and the internship takes place at a cooperating law firm. Further training comprises intensive workshops on specific topics, self-organized working groups, and discussions with experts during the RLC Hamburg lecture series. Lawyers specialized in asylum law regularly supervise individual cases from the consultations. An advisory committee of cooperating lawyers is also available to take questions and can be consulted about individual cases if necessary.
Download: Everything you need to know about the RLC Hamburg (PDF) (in German only)
Feature on the RLC Hamburg on TIDE TV
"Hamburg immer anders" aired on 27 April 2017