Sie sind hier:UHH > Rechtswissenschaft > Forschung > Institute, Forschungsstellen und Zentren > Institut für Recht und Ökonomik > News und Events > Law, Finance, and Technology > Research > Selected publications: FinTech and Blockchain
Selected publications: FinTech and Blockchain
5. August 2020, von Internetredaktion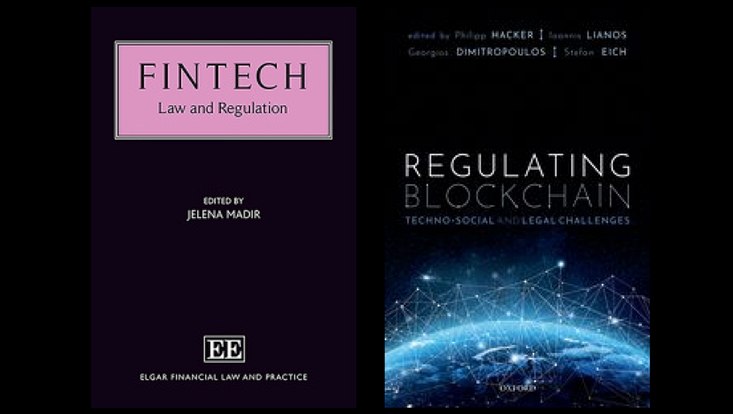 Foto: EE&Oxford
Two excellent publications shed new light on the regulatory challenges of financial innovations. In recent years we have witnessed the fast development of the FinTech industry, often emerging outside the regulatory perimeter of traditional banking and financial services. In this context, regulators and supervisors are called to address critical legal questions in pursuit of their institutional mandates to uphold consumer protection and financial stability.
Edited by Jelena Madir, "Fintech: Law and Regulation" presents an extensive overview of new technologies to provide banking and financial services and how best to regulate them, collecting insights from leading international experts. Madir's book assists us in comprehending this fast-evolving financial sector by covering a vast range of innovations, such as new payment systems, crowdfunding, cryptocurrencies, ICOs, blockchain, and smart contracts. Moreover, it also goes to present experimental solutions for regulators, such as sandboxes and SupTech, and new challenges related to robo-advisors and TechFins. Madir's book concludes with some suggestions for lawyers and legal firms on to how to adapt themselves to this new era.
Another great title is "Regulating Blockchain: Techno-Social and Legal Challenges." Edited by Philipp Hacker, Ioannis Lianos, Georgios Dimitropoulos, and Stefan Eich, this second book focuses on a diversity of applications of blockchain technology and its capacity to enhance disintermediation, from private ordering and governance to the future of money and banking. It also integrates several emerging concerns such as shadow payment systems, securities regulation, competition policy, and the limits to blockchain networks judicialisation. The book tries to both comprehend the business potentials of blockchain technology and, through the insights from great contributors, tackle its legal challenges. It is a must-read for those interested in the potential and new challenges arising from the blockchain technology.